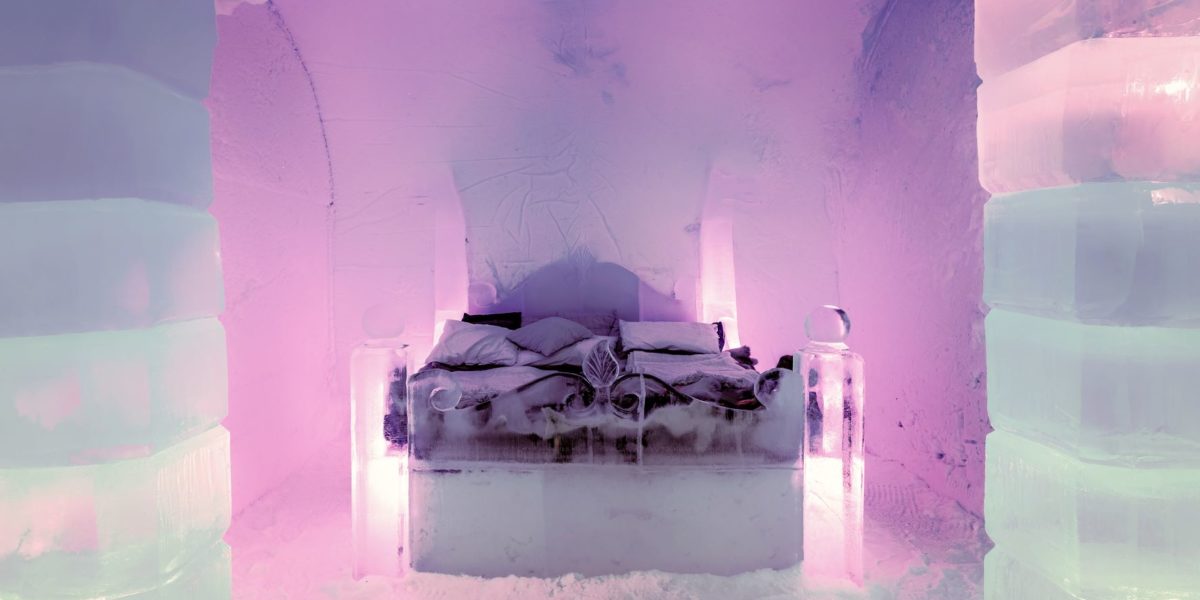 Jaya Travel & Tours is excited to share our favorite unique hotels across the globe! When someone says special hotel, you probably think of five-star hotels in the heart of New York City or Paris. You wouldn't expect to find hotels hidden among a tea plantation, in a repurposed airplane, or carved into pre-historic rocks. As it turns out, some of the most unique hotels are found in the most unlikely places. 
Imagine waking up from a long night's sleep to be welcomed by a shoal of colorful fishes swimming around you. Guests who book at Hotel H20 in the Philippines will get to share their room with fish! Each room is decked out with its own giant aquarium that holds dozens of different fish and gives a touch of underwater serenity to each room. The modern, neutral colored aesthetics of the interior design are pleasantly contrasted by the cerulean, emerald green, and violets of the aquariums, giving this unique hotel a peaceful vibe. Additional amenities include Sandalwood marble, feather down blankets, a business center, fitness room, and several dining options for plates of every variety.
Club H2O offers a splendid view of Manila Bay and has a full array of spa treatments so you can rejuvenate your body without ever leaving the hotel. Traditional Japanese techniques are used to promote natural healing and wellness. Going along with the fish theme, one spa treatment immerses you with many small fish that gently tickle you as they clean away dead skin cells.
For dining, be sure to visit the Makan Makan Asian Food Village. You'll feel like you're out getting street food, but the quality is stellar and features pan-Asian cuisine.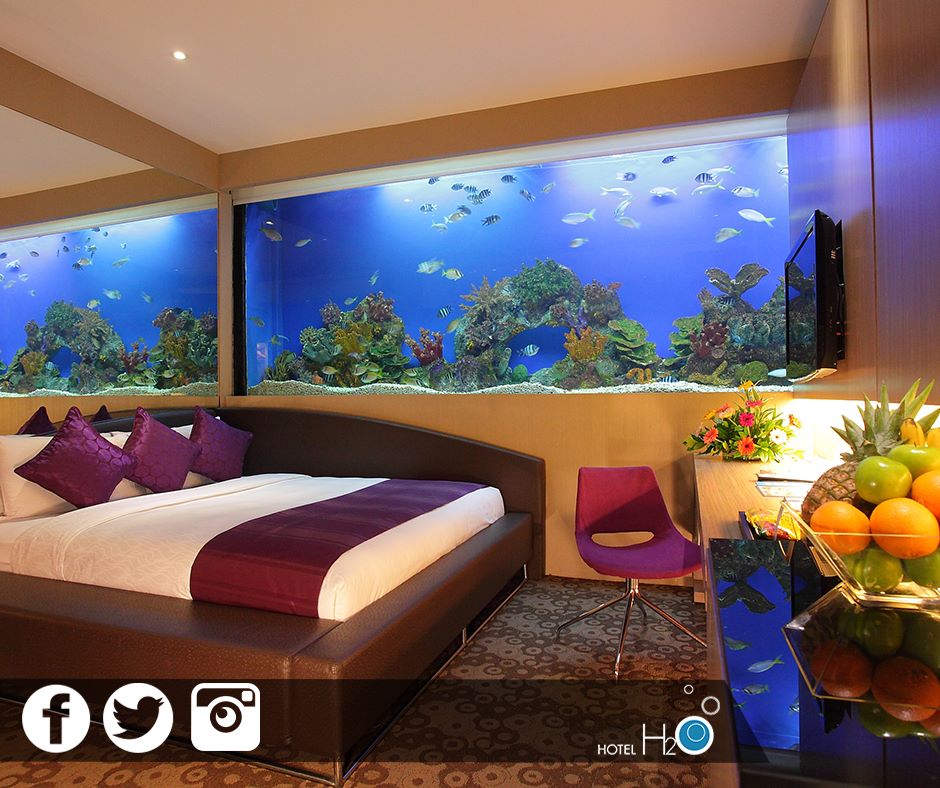 Costa Verde combines luxury with a flair of adventure. 70 rooms have been constructed amongst the jungle and ridges, so you'll feel fully embraced by the rainforest every moment you're there. If an individual bungalow is too tame for you, consider the Boeing 727 suite! At first glance, it seems like a plane crashed into the jungle, but don't worry, it's just the design. Created from a scrapped 1965 Boeing 727, the interior has been remodeled with Costa Rican teakwood and the furniture is handmade and imported from Java, Indonesia.
For dining, there are 4 different restaurants on site. Chef Roberto Mora Calderón, a graduate of the Culinary Institute of America, oversees the culinary operations using his 20 years of experience. Anaconda Restaurant offers a casual dining experience nestled between a cliff on one side and the jungle on the other. La Cantina has a wood-fired BBQ and features live reggae and Latin music. If you want to keep with the plane theme, stop by El Avión, a bar, and restaurant made from a converted C-123 Fairchild aircraft.
Kagga Kama may be the closest you'll ever get to replicating how our ancient ancestors lived in caves. Nestled into the Cederberg Mountains, you'll find three different kinds of suites – one of which is man-made cave dwellings! Integrated into the natural landscape, each cave suite includes a shower, tea and coffee bar, and an open terrace.
They also offer hut suites (yes, it's exactly what you think it is). Huts incorporate native architecture and elements of the cave suites. These hut suites are ideal for families traveling with children as they have both double beds and twin beds.
Open air suites allow you to sleep under the stars, weather permitting, and enjoy the immense, unbroken landscape and night sky without interruption.
Resort facilities include a nearby airfield, restaurant and bar, and swimming pools. As part of your stay, you may wish to go on an optional excursion. You'll have multiple to choose from including morning and night safaris, rock art tours, star gazing tours, and quad bike treks.
It's incredible to think that tea could grow so high up in the mountains, but it does! Darjeeling has long been famous for its special variety of tea, and you'll learn all about it when you stay at the Glenburn Tea Estate. Founded in 1859, Glenburn was inspired by the vineyards of Europe. You'll be amazed by how much you'll learn from these expert tea growers. In addition to drinking tea to your heart's content, you'll have plenty of beautiful scenery on which to feast your eyes. Birds and butterflies thrive here and frequent the plethora of gardens surrounding the guest bungalows and suites.
Food here is made to each individual's taste and the estate can easily accommodate every kind of guest. Dishes incorporate elements of Indian, Southeast Asian, and European cuisine. Cookies, cakes, bread, and marmalade are made on-site!
Glenburn's "Tea Experience" is an experience that can be 1.5 to 3 hours depending on your preference. You'll be treated to an audio-visual presentation on local history, a tour of the factory where you'll learn how tea is harvested, weighed, dried, and rolled. To complete the excursion, you'll sample a variety of teas!
Do you fancy living in an igloo? While you might not get to live the Eskimo life all year, you can get to spend a few nights in Sweden's marvelous Ice Hotel. Set in the village of Jukkasjarvi in Sweden, this frozen marvel is rebuilt each year with huge amounts of ice and snow. Every year in December, the one-in-a-kind ice structure melts and finds its way back to the Torne River. Since its inception, over 546 artists have come together to recreate the suites and hotel rooms every year. The Ice Hotel has also featured special light and sound-themed suites for visitors who want a bit of color pop in their ice suites. The Ice Hotel has gone all out with suites themed around the Great Gatsby and even Charles Dickens. The Ice Hotel organizes a wide range of activities for its visitors. From snow carving to ice sledding, the guests will not get to spend even a minute with boredom. The beds are lined with reindeer furs and people are given special equipment to use while sleeping in the hotel. The guests sleep in polar-tested sleeping bags. The bedroom temperatures are constantly around −5 °C. Do you have the guts to survive a night in this frozen marvel? Book a room well in advance because this unique hotel is open only for a few months every year.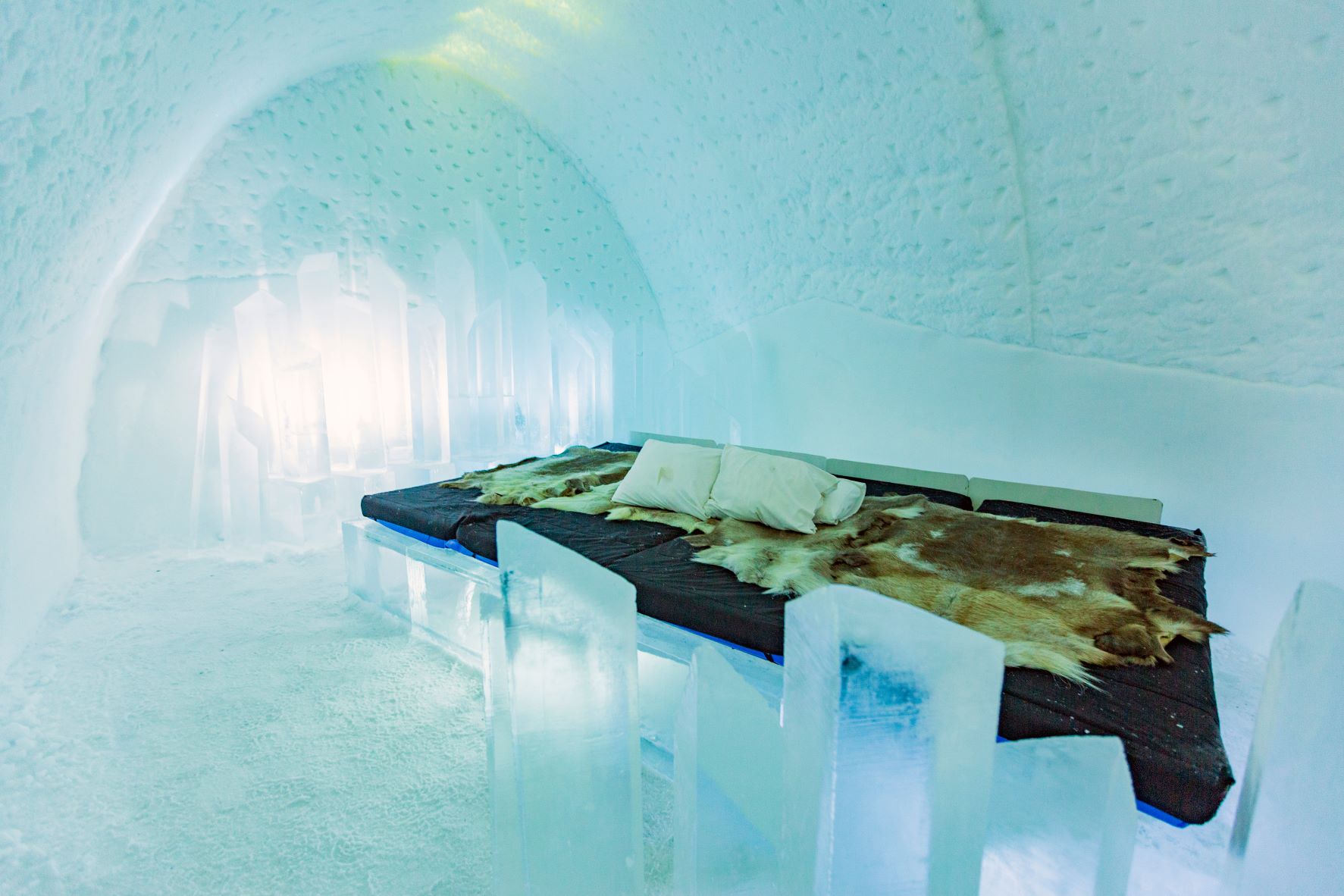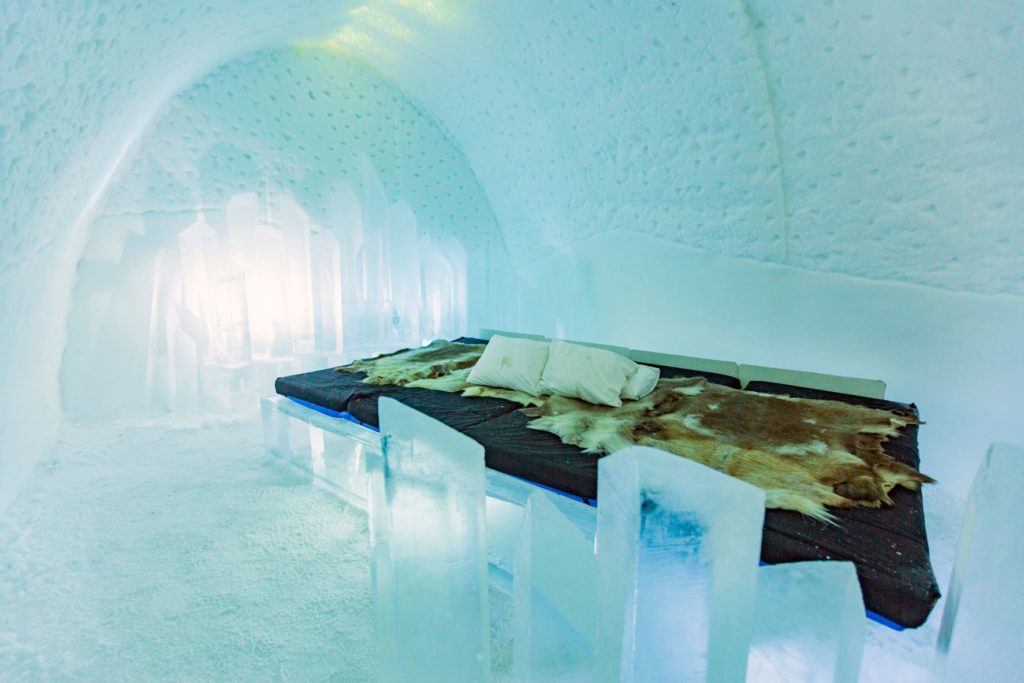 Discover more unique hotels with Jaya!
These special spots are just a few of the marvelous and unique hotels across the world. Are you inspired to take a journey that ends in one of these unique hotels? Call Jaya Travel & Tours for a consultation to learn more about amazing off-beat venues to visit across the globe or visit the JAYA Booking Engine to book your unique hotel experience instantly!