Discover the real film locations from your favorite films with Jaya Travel & Tours' "On Location" series! Today, we're on the run to New Zealand where 2016's Hunt for the Wilderpeople was filmed. Grab your pack and dive into the bush as we explore the movie locations where the characters trekked to avoid capture!
Hunt for the Wilderpeople Synopsis
Director: Taika Waititi | Run time: 1 hr 41 min | Genre: Comedy, drama, adventure | Rating: PG-13
Thirteen-year-old Ricky Baker (played by Deadpool II's Julian Dennison) is a juvenile delinquent who has spent his life in foster homes. Following scads of bad behavior, Baker is taken to live with heart-of-gold Bella (Rima Te Wiata) and her cranky husband Hec (Sam Neill) on their farm bordered by the New Zealand bush. Baker bonds with Bella, is tolerated by Hec, receives a dog for his birthday, and refers to his newest foster parents as "Auntie" and "Uncle," despite Hec's refusal of the title.
When Bella dies suddenly, Baker fears he will be returned to child welfare services. He flees into the bush. It doesn't take long for Baker to get lost and eat through his food rations (one bag of bread). Hec soon finds him and, after a bout of arguing, they decide to stay in the wilderness. The dense cover proves to be a great convenience when a nationwide manhunt for the pair ensues. Headed by the tough child welfare services officer, Paula, Hec, and Baker have a full police force at their heels and a $10,000 reward on their heads.
Hunt for the Wilderpeople Film Locations
Waitakere Ranges, New Zealand's North Island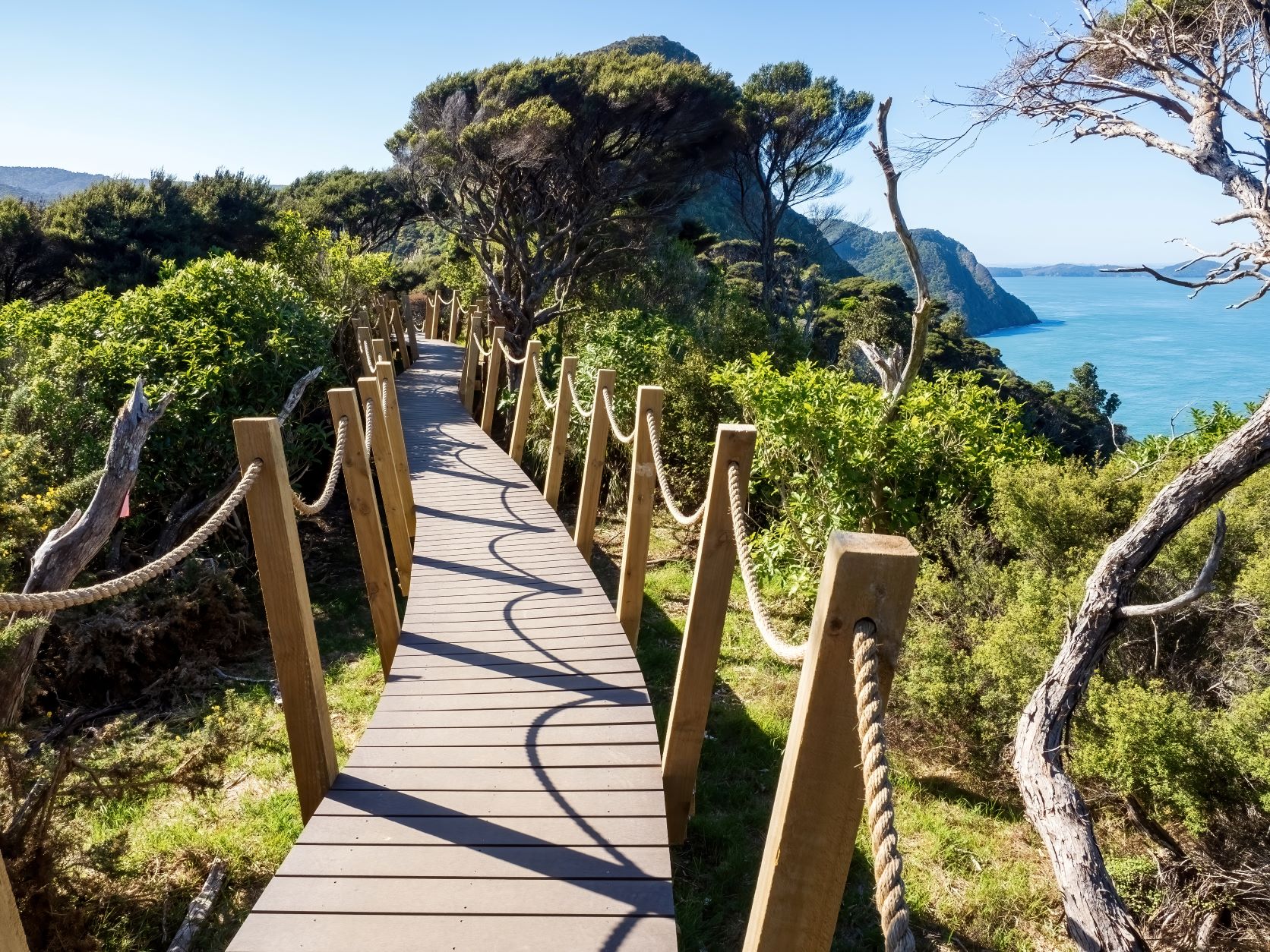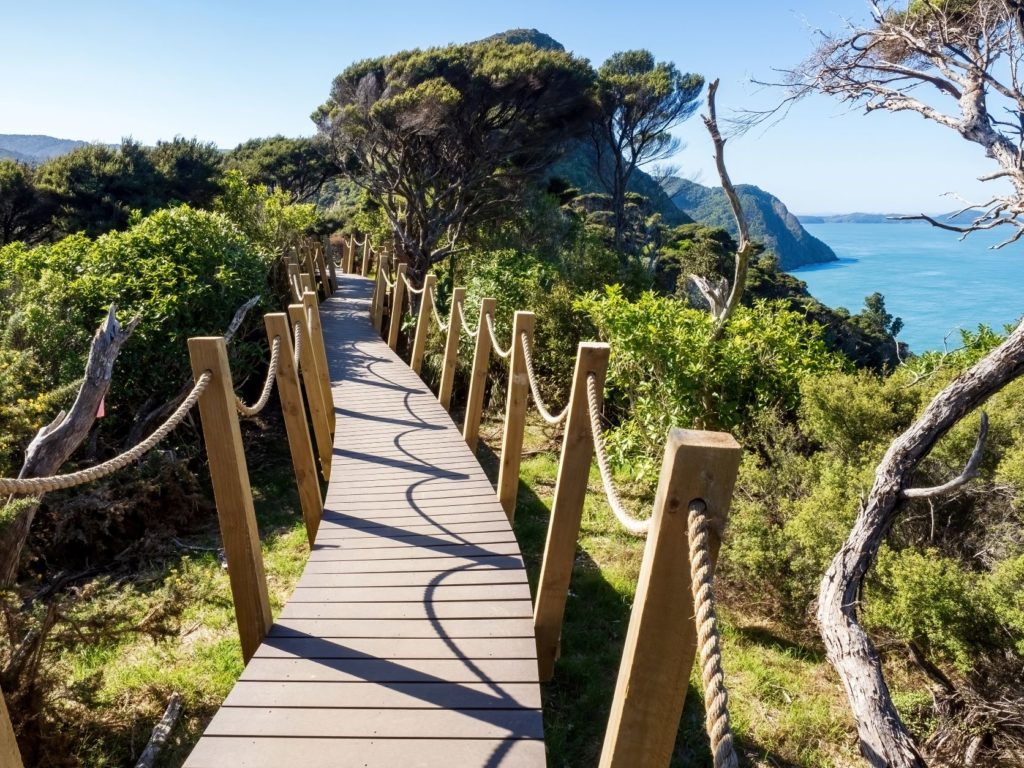 The majority of the film is spent in west Auckland's Waitakere Ranges, following Hec and Baker on the run (or fast walk, they later decide). The Waitakere Ranges are made up of forested hills covering over 39,500 acres. The varying elevation and vibrant green vegetation carpeting every incline produce outstanding beauty. You can literally walk right into it, thanks to its wealth of hiking trails.
In an effort to protect trees from and prevent the spread of a fatal plant disease called kauri dieback, many of Waitakere's forested areas were closed to the public in May 2018. Despite the closings, many trails are still open for trekking. Just pay attention and adhere to places marked with the Controlled Area Notice signs. Take comfort in knowing forbidden areas are well-marked. Although the ranges appear to be void of society's presence in the movie, there are visitor centers with detailed trail information and car parks that will keep you from getting as lost as Baker did at the beginning of the film.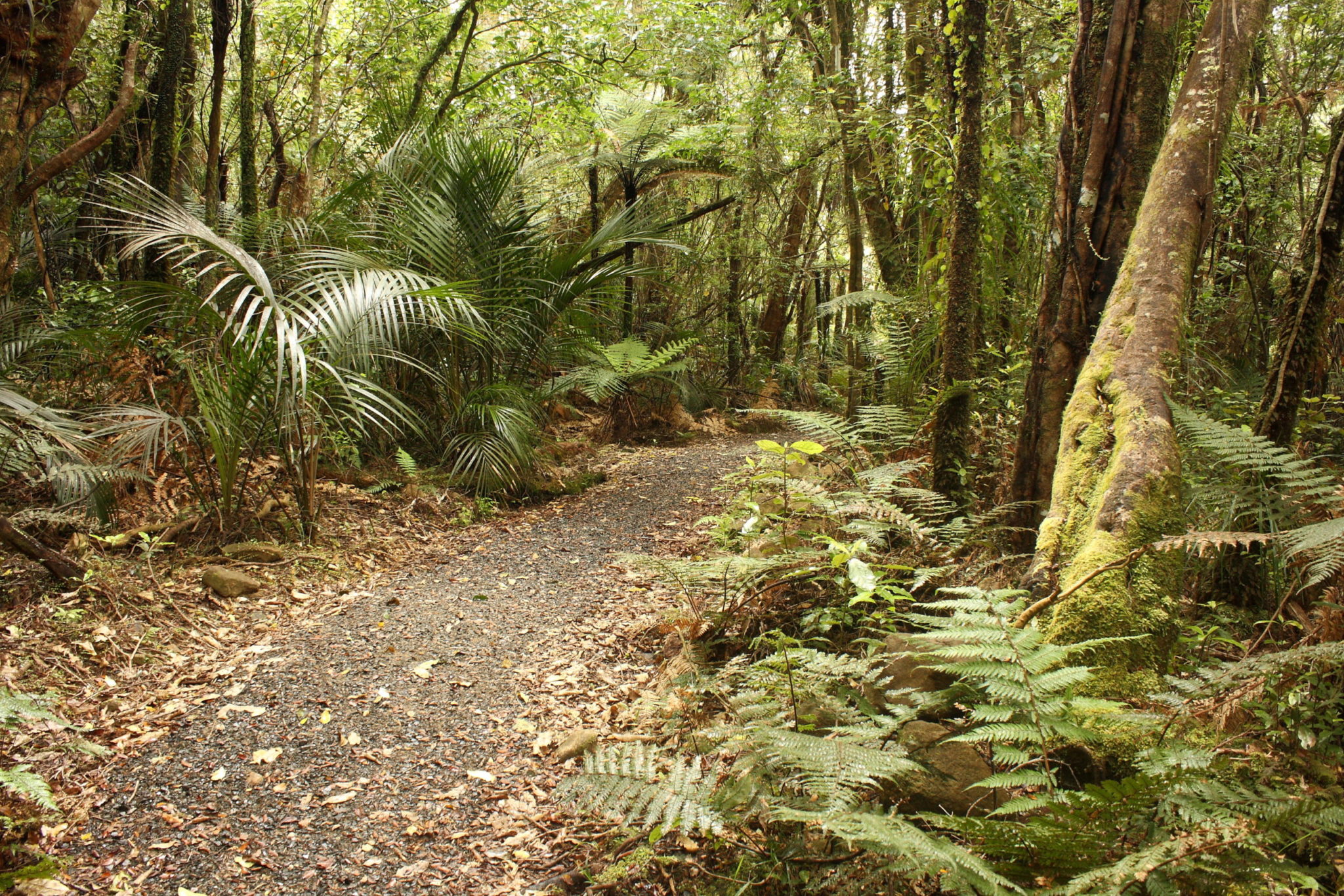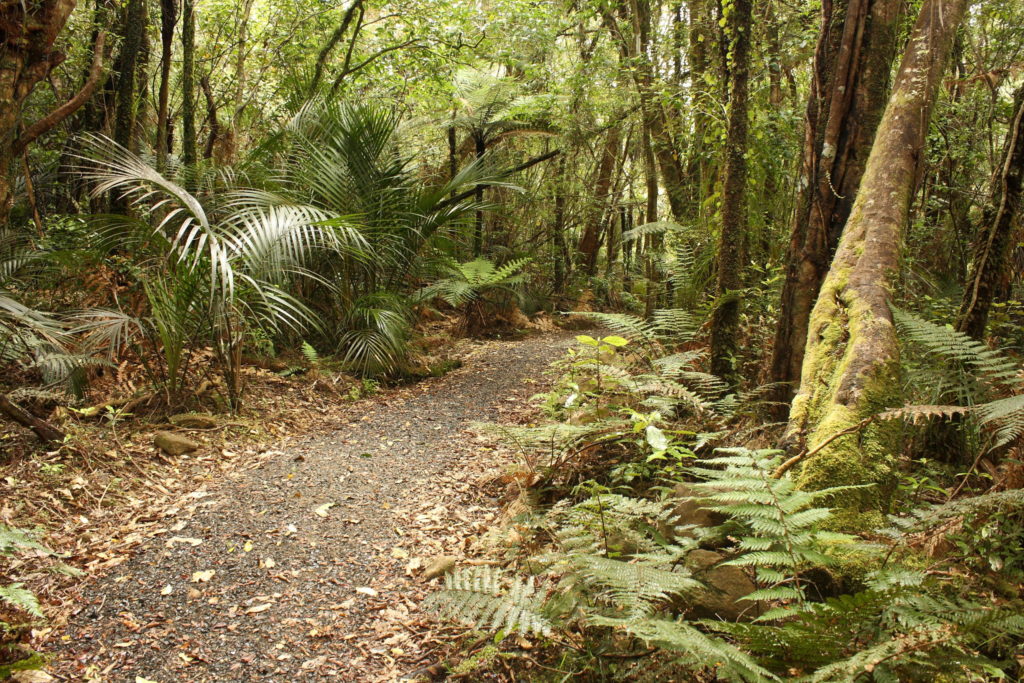 Two main roads web through the Waitakere Ranges, setting the path for the most scenic joy ride you've ever seen. In fact, one of the roads is actually named "Scenic Drive" and it slithers along the east border from the city of Titirangi to Swanson. Piha road runs across the ranges from east to west, cruising through the middle of the park. From the tiny town of Waiatarua (another launching point for Scenic Drive), you can take the road west and arrive at Piha Beach. Piha Beach is not in the movie; but if you like surfing, you'll want to visit this place!
Alpine Crossing at Tongariro National Park
The on-foot manhunt eventually culminates into a car chase. Brilliant camera work captures both the pursuit's intensity and the gorgeous landscape of Tongariro National Park. The snow-covered mountains you see when Baker and Hec burst from the bush and onto barren desert land are part of what's said to be New Zealand's best day hike: the Tongariro Alpine Crossing.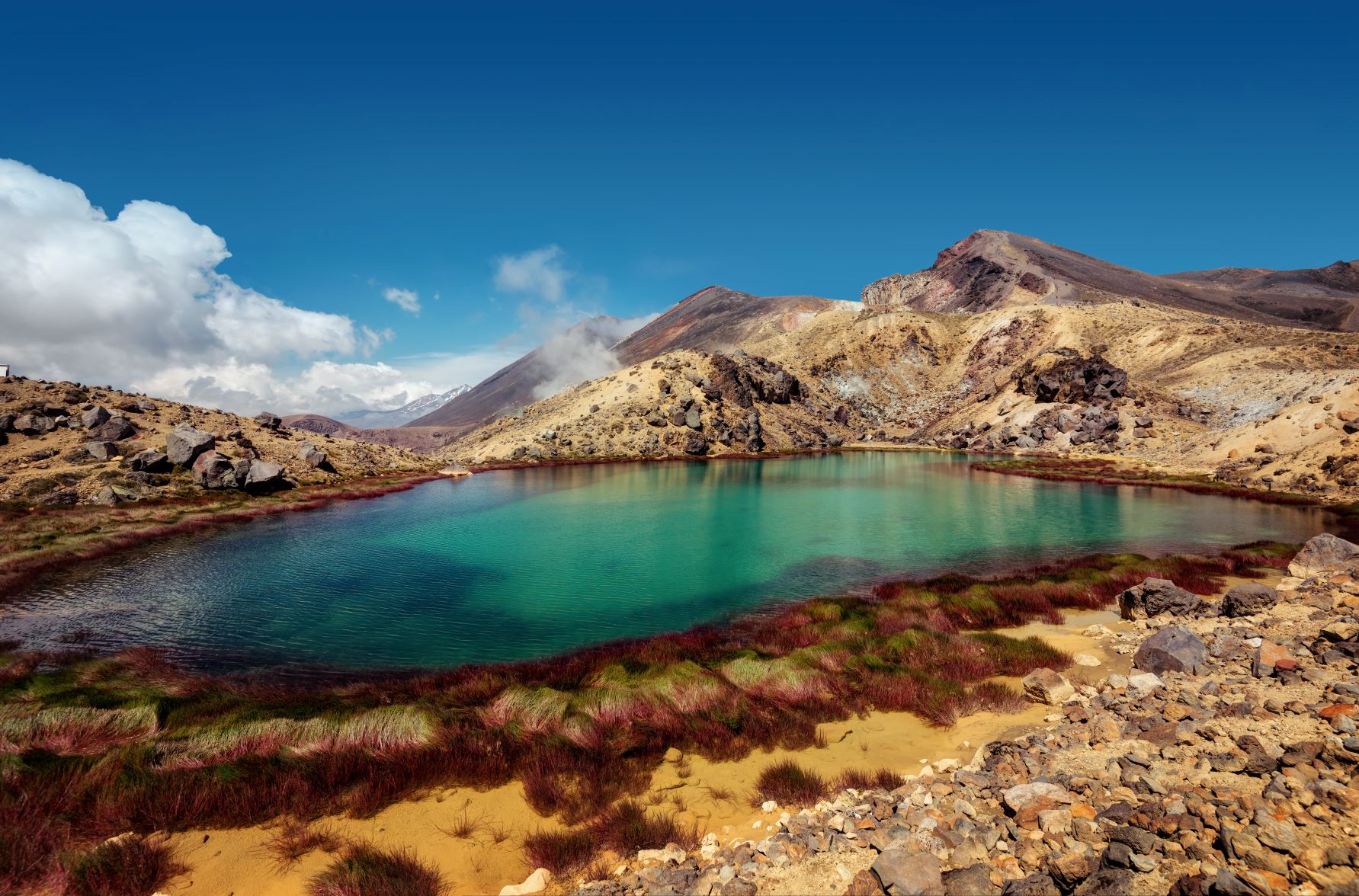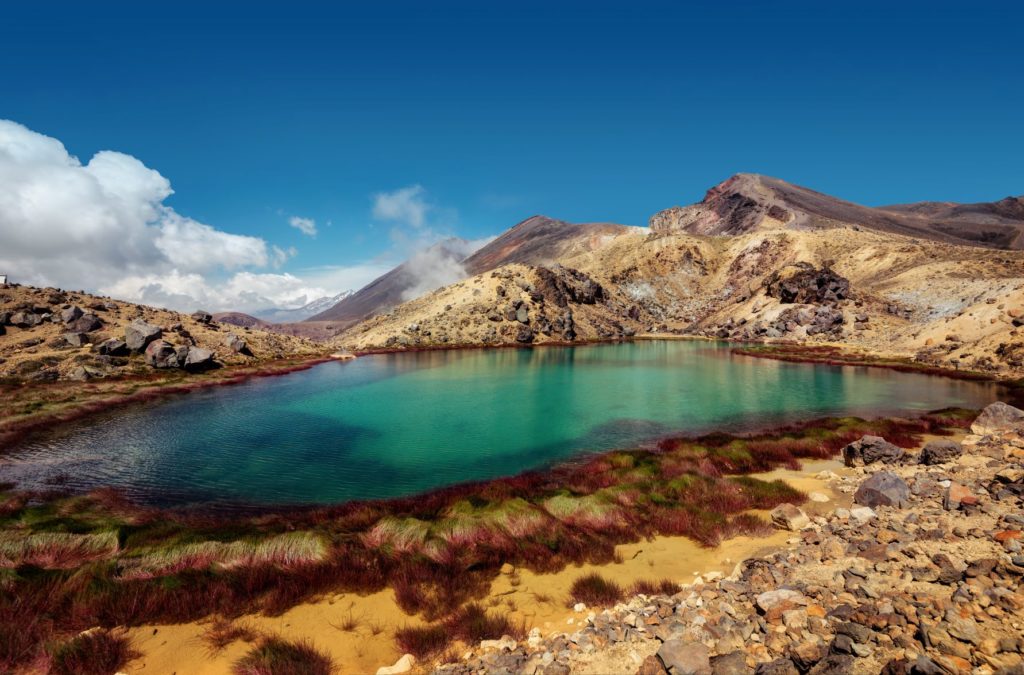 The Tongariro Alpine Crossing is almost 12 miles (19 kilometers) long and weaves between Mount Tongariro and Mount Ngauruhoe. Trekkers also pass by Blue Lake, the Emerald Lakes, and a number of fascinating craters. Hikers can enter from the west at Mangatepopo Car Park or the north end at Ketetahi Car Park. If you don't have the time to devote a day to hiking the full Alpine Crossing, you can hike sections and still experience its stunning geography. The website tongarirocrossing.org.nz provides descriptions and duration times on shorter treks, from one landmark to another, so people can cater their excursion to their interests.
Travel to New Zealand Today!
Jaya Travel will cater your trip to your interests and budget. Plan your luxurious escape to New Zealand's must-see wilderness. Or, find another vacation filled with film destinations. Call Jaya Travel & Tours today and access flight tickets, car rentals, tours, and more!