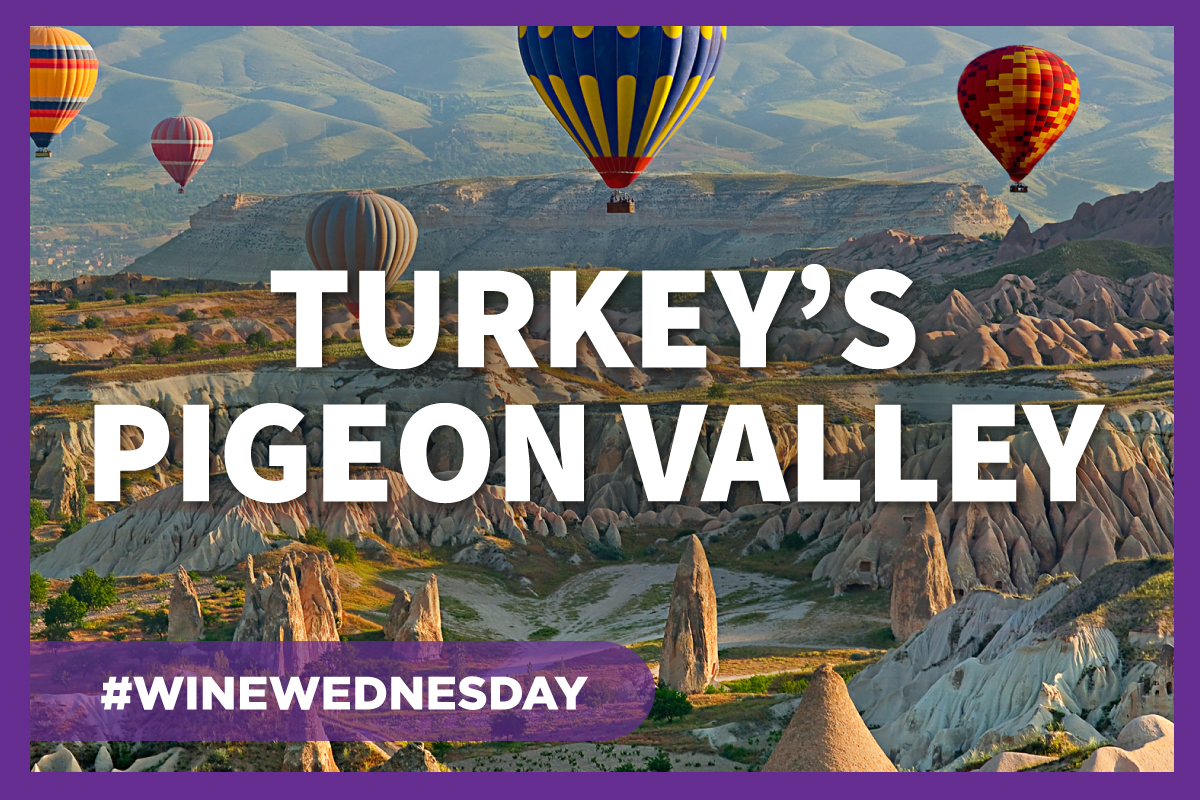 For this Wine Wednesday, we're going to a region of the world we've never done before: Turkey. Specifically, the Pigeon Valley region of Cappadocia, in the very center of the country. Join us as we explore this charming area known for houses and structures carved into the volcanic rock.
Pigeon Valley
Cappadocia, Turkey
The region of Pigeon Valley takes its name from the manmade dovecots or "pigeon holes" carved into the areas abundant volcanic rock. Additionally, you'll find charming natural structures called "fairy chimneys." These unique geological formations are the result of volcanic activity millions of years ago. While there was no magic involved in the creation of fairy chimneys, they are a delightful sight to see when visiting Pigeon Valley.
If you haven't already made the connection, it's precisely because of this ancient volcanic activity that the soil of the Pigeon Valley region is one of the best places to grow wine, despite its arid tendencies.
While most vineyards blend European classics like Cabernet Sauvignon, there are a few native Turkish grapes that are staples to the industry:
Emir
Narince
Kalecik Karasi
Öküzgözü
So, if you're on the hunt for something authentically Turkish, keep an eye out for those varieties when you visit. Here are some of Pigeon Valley's best wineries:
Kocabag Wineries
Started in 1972 by Mehmet Erdogan, this operation grew from small bulk batches to full scale, Chateau-style production and printing its own labels in 1986. Kocabag produces four different varietals: white, red, rose, and blush.
Mahzen Sarap Evi
Established in 1983 by Hasan Sarikaya, this winery prides itself on producing natural wine and friendly hospitality. You'll love chatting with the locals as you enjoy a glass of vino.
Efendi Wine House
If you're looking for an extended stay in Pigeon Valley, you may want to consider the Efendi Wine House. The accommodations are actually manmade caves carved from the volcanic rock. It's a lovely spot to spend an afternoon or a weekend. In fact, 48 different varieties of wine are produced here so you may want to opt for a longer stay so you can try them all.
Care to see Pigeon Valley, Cappadocia yourself? Let a Jaya agent create a customized tour for you. Click here to start!