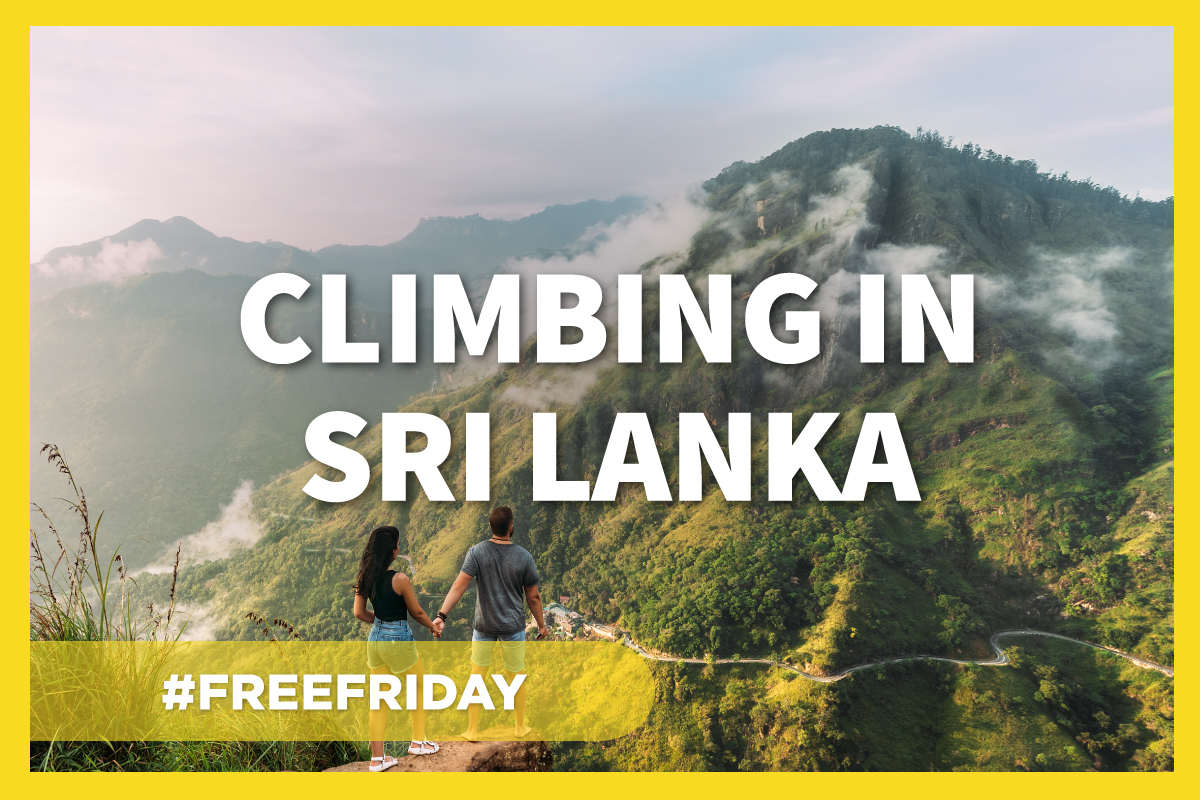 Nested high above the island nation of Sri Lanka lies Adam's Peak – a conical mountain said to house the footprint of the Buddha. For today's edition of Free Friday, we'll show you how to climb this incredible landmark.
Adam's Peak
Sri Lanka
Adam's Peak has been a famous landmark for centuries – it's even mentioned in the travel journals of Marco Polo. At 7,359 feet high, this conical mountain is known locally as "Sri Pada" and is said to house an imprint of the Buddha's foot. There are actually several legends surrounding the mysterious footprint, and the story changes depending on which religious tradition you look at. Muslim and Christians on the island believe it is the footprint of Adam, the first human, after banishment from the Garden of Eden.
In modern times, Adam's Peak has become a popular spot with adventure tourists and religious pilgrimages alike. No matter which faith you follow – or none at all – everyone can appreciate the breathtaking view and the thousands of butterflies that call the island home.
Climbing Adam's Peak
The trail calls for inclined trekking, but you don't need to have extensive climbing experience. It's certainly not an Everest expedition, but it's not a stroll through Central Park either.
Assuming you arrive at the international airport in the capital of Colombo, take the bus or train to Dalhousie, the nearest town to Adam's Peak.
Gear to Pack
A lightweight, small backpack
Waterproof jacket
Plenty of water
Camera
Trekking poles
Comfortable shoes, preferably hiking boots
Things to Know
The Sri Lankan New Year occurs on the 13th and 14th of April, so we highly recommend avoiding a climb as the crowds will be intolerable.
Consider starting the climb at night so you can observe sunrise at the summit.
You're looking at 3 – 7 hours each way depending on your speed and endurance level. Indeed, even if you are in peak (get it?) physical condition, you'll need to devote at least six hours to this hike.
There are over 5,000 steps, and not all of them are in good condition, so trekking poles are highly advisable. You may want to bring some mild pain medication if you are prone to knee aches.
Layers are your friend! Weather varies from hot and humid to cold and rainy, and you don't want to be uncomfortable on your climb. Layering allows you to adjust on the go.
Ready to scale Adam's Peak for yourself? Give Jaya a call! We'll create a customized tour package to Sri Lanka that includes a visit to this fascinating mountain.