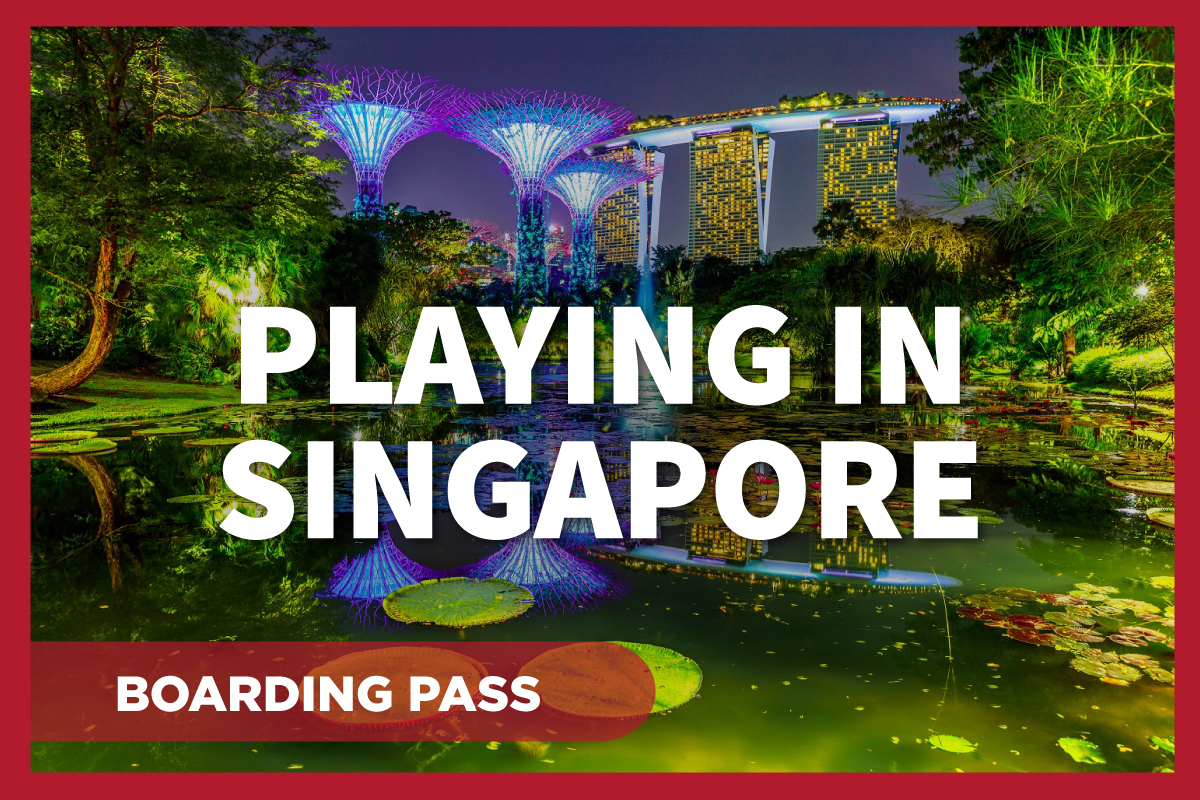 Joining the Vatican and Monaco as one of the few country/states in the world, Singapore manages to pack a lot into a space even smaller than the United States' Rhode Island. Although its pricey reputation has deferred budget conscious travelers in the past, this petit country is earning a new status as a hip and inclusive place to engage in the fun, colorful lifestyle of its locals. Keep reading to uncover why Singapore is on our list of Top 10 Destinations for 2021.
Singapore
*Note: Wearing a mask in public spaces is required due to COVID-19. Learn more about COVID rules and regulations during travel here.
If you favor the blend of modern, eye-widening architecture and lush, colorful forests and gardens, you'll fall head over heels for Singapore. Here are some must-sees to get you started (and when you see something cool along the way, detours are encouraged):
Top Attractions in Singapore
Merlion Park
Merlion Park is one of Singapore's most famous landmarks. Not only do you get a postcard-perfect view of Singapore's iconic skyline featuring the three towers of the Marina Bay Sands Hotel, across the dividing Marina Bay, but this is also where you get a photo with the Merlion Statue and its pup.
The beloved Merlion statue depicts a lion-fish hybrid standing powerfully at the edge of the park's steps, spewing a fountain of water into the sea. Towering at 8.6 meters (28.2 feet), the fish half of the mythical creature represents Singapore's past as a fishing village and the lion's head is a proud nod to the country's original name, "Singapura" (a.k.a. Lion City). Directly behind the main Merlion is the baby Merlion statue, a smaller scale (2-meter/6-foot tall) duplicate of its "mom." Although its size isn't as impressive, it's much easier to fit this little guy into a photo!
Merlion Park is a great place to begin your introduction to Singapore. It gives you an eyeful of what there is to see, and you can hold up in one of the park's seaside cafés or on the marina steps to figure out where to go from here.
Nearby: National Gallery Singapore museum and Singapore River Cruise launch
Marina Bay Sands Hotel
Located across the bay from Merlion Park, this accommodation is an attraction in itself. We're not going to lie: an overnight stay at Marina Bay Sands Hotel is a splurge with an average room rate of $500+ per night. Its amenities and million dollar views make it the epitome of cool luxury in Singapore. If your trip happens to be an indulgence where money is not an issue, this is where you want to stay.
For the rest of us muggles, there is still opportunity to experience a sample of this magnificent hotel at Cé La Vi Sky Lounge, located on the roof of Tower 3. The cocktails are pricey, but not nearly as expensive as an overnight stay. So, buy yourself a drink with the money you saved by booking with Jaya Travel and kick back by the world's largest infinity pool overlooking the bay. Entrance to the Sky Lounge is complimentary, unless a special event is happening in which there could be a cover charge. For panoramic views of the hotel's surroundings, including Gardens by the Bay, the SkyPark Observation Deck is located on the northern point of Tower 3.
Nearby: ArtScience Museum located along the Marina Bay Waterfront
Singapore's Gardens
Gardens by the Bay
Three waterfront gardens make up this 250-acre nature park, and we're not talking your run-of-the-mill gardens you see in your neighbor's lawn. Gardens by the Bay is a theme park of greenery with main attractions including the Flower Dome, the largest glass greenhouse in the world, and Supertree Grove.
The celebrities of Supertree Grove are massive manmade structures serving as "vertical gardens," ranging between 25 and 50 meters (82-160 feet). Exotic ferns, plants, and flowers are weaved throughout their pillars to create nothing short of an art piece. The accompanying string lights threaded around the plants are illuminated at night, yielding a spectacle that's simultaneously enchanting and wondrous.
Entrance to Gardens by the Bay is FREE. Additional activities like the Skyway and viewing the world's largest indoor waterfall costs extra.
Singapore Botanic Gardens
The award-winning Singapore Botanic Gardens is the only tropical botanic garden that is also a UNESCO World Heritage Site. The 202-acre area is vibrant with an infinite number of gorgeous plant life, multiple gardens – including the National Orchid Garden – waterfalls, ponds, and freestanding statues.
Admission into this tropical nirvana is FREE, and it is open daily from 5 am to midnight.
Singapore Zoo
This massive zoo located in Northern Singapore is celebrated for its "open" captivity design that enables animals to roam in large spaces equipped with non-intrusive barriers rather than being caged or jammed behind glass. The ownership animals have over their surroundings makes for an immersive experience when exploring this enormous attraction.
This zoo is worth making a day of, so look into its excursions to add interactive zest to your visit. Head into the Giant Panda forest to see the magnificent creatures up-close, partake in a pony ride, embrace the darkness during a night safari that showcases the park's nocturnal animals, and have a truly unique adventure by booking a river safari in Asia's only river-themed wildlife park. Discover what's happening during your visit here.
If you love birds, there's no better place to be than at Singapore's Jurong Bird Park. Here, you'll be surrounded by almost 3,500 birds of over 400 species. If this colorful park is on your itinerary for sure, sign up for a free WildPass, the park's digital membership program that lets you enjoy discounts and perks during your visit.
Sentosa Island
Nearly capping the southern belly of the main island, Sentosa is described as an "island playground." Getting there is quick and accessible via most modes of transportation. Sentosa is easily connected by the Sentosa Gateway, which you can drive across. If you're not bothering with cars, you can enter the island by walking the Sentosa Boardwalk (FREE) or taking a Cable Car (around $35) which delivers aerial views of the Singapore skyline as you traverse the water below.
Aside from having the best beaches for swimming, Sentosa is where you'll find tons of activities to happily occupy your day. Universal Studios theme park and Skyline Luge are the most popular attractions on "Asia's favorite playground." A wax museum and a visit to the World War II memorial, Fort Siloso, offer mellow breaks between adrenalin-pumping fun.
Shopping in Singapore
Shopping is said to be one of Singapore's true loves, along with nature and contemporary architecture. Orchard Road is Singapore's most famous shopping area that packs scads of upscale department stores, hip cafés, and sit-down restaurants into a 2.5-kilometer (1.6-mile) strip between Orchard and Somerset roads. Thanks to underground tunnels connecting the malls, shopping Orchard Road is enjoyable even when tropical rains put your scheduled explorations of Singapore's gardens and nature reserves on hold for a few hours.
While Orchard Road is a must-visit for shopaholics, Burgis Street Market is the place to go for bargains and experience the true shopping culture of Singapore. It's a super trendy hub of goods and colors that you won't break the bank indulging in. Little India and China Town are also celebrated among Singapore's best places to shop on a budget. Little India vends cheap goods and is a place for delicious, low-cost dining. Little China preserves the culture of Singapore's Chinese heritage through its temples, craft shops, and souvenirs.
Off-the-Beaten-Path in Singapore
Island Hopping
Pulau Ubin Island
As we mentioned earlier, Pulau Ubin is Singapore's northeastern island that continues to maintain a relaxed and modest lifestyle. People come here to experience the Kampong life of Singapore's earliest settlers.
At only 10 square kilometers (6.2 square miles), Pulau Ubin is very walkable. Biking is also a smooth way to get around the island or there is a public taxi service orchestrated by minivans that seat up to 10 people. If you are physically capable, we highly recommend walking or biking the island to experience it at a level where you can appreciate the adventure and wildlife unique to this island.
Coney Island
This small, 329-acre island is a perfect retreat when you want to spend a few hours moving around in nature. People can head here for a bike ride on its trails spanning the entire island and relax on its beach areas looking across the sea to Palau Ubin. Getting here is very easy with two bridge entrance points at the west and east ends of the island, and there are restroom facilities on site.
Despite the name, you're not going to find any Coney Island restaurants – or any eateries – here. The park is a top choice for adorable picnics in the grass or on the beach. Our suggestion: work up an appetite biking around Coney Island, then bike on over to the Punggol Settlement on the main island (north of the Coney Island West Entrance) and grab a satisfying meal there.
St. John's Island
South of the main island, beyond Sentosa, is St. John's Island. Its lush green beauty distracts one from its fascinating past as a quarantine station for cholera cases of the late 1800's to 1930's. Around 1975, it turned its reputation around to serve as a little island escape with great beaches, trails (there's a bike rental place on the island), and lagoons.
At one point, St. John's was extremely popular for its cat population as many felines chose to make the island their home. Seeing cats parade the streets was guaranteed to visitors until an insane catnapping (seriously) incident occurred in 2018. The culprits behind the tragedy were never identified and people are still trying to wrap their heads around how exactly someone pulled the heist off. As of 2019, it's said that there are only 16 cats left on the island and not much else is known. Keep your eyes peeled and some treats handy.
Hiking
Singapore has many salubrious patches of tropical forests to discover, and taking a break from the skyscrapers to explore these areas exposes travelers to several species of animals and plant life.
Thomson Nature Park occupies a large splotch of greenspace in central Singapore. Its Ruins and Figs Trail is a short hike passing through Jalan Belang, a ruined Hainanese Village of the 1930's. These aren't like the ruins you'd encounter in Delphi, Greece or Ephesus, Turkey, but they're still pretty neat.
A direct line southwest of Thomson Nature Park is the Bukit Timah Nature Reserve. Situated on Singapore's highest hill, it is one of the largest patches of primary rainforest left in Singapore and is home to macaques, flying lemurs, and tons of species of birds. The Bukit Timah Mountain Bike Trail is a 6.5-kilometer (4-mile) loop prime for those who want to add exhilaration to their walk in the park. If you didn't lug your own bike with you, there are mountain bike rental places, like Bike Technics PTE Ltd or Aire MTB, nearby.
The MacRitchie Tree Top Walk is a worthwhile attraction in the same area as the parks listed above. For the low cost of FREE, you can cross a 25-meter (82-foot) high suspension bridge that grazes the tree canopy and gives you a bird's-eye view of the park below.
Haji Lane
Haji Lane is situated in one of Singapore's hippest neighborhoods and is known as the original indie neighborhood (you know, before indie neighborhoods were cool). It's a stylish place to break from the skyscrapers of Marina Bay and spend time sipping coffee in a trendy café and admiring the colorful murals spattered all over the buildings. In short, this is where all the cool kids go to hang out and explore hip boutiques, bars, cafés, and bakeries.
Nicole Nithiyah of Honeycombers has a fantastic blog post on what to do in Haji Lane. Read it here!
Nearby: Have a drink at the Writers Bar at Raffle Hotel (1 Beach Rd, Singapore) and absorb the lingering presence of the illustrators and authors who have previously stayed at the Raffles.
*Only 18 years or older are allowed to enter the Writers Bar.
Working with Jaya Travel & Tours lifts the burden of navigating the countless things to do in Singapore off your shoulders by offering itinerary planning services paired with expert knowledge of global destinations. Plus, your Jaya agents will ensure you get the best deals on airfare and lodging for your trip.
Create a custom itinerary in Singapore with Jaya by calling
877-FLY JAYA (359-5292)

today!