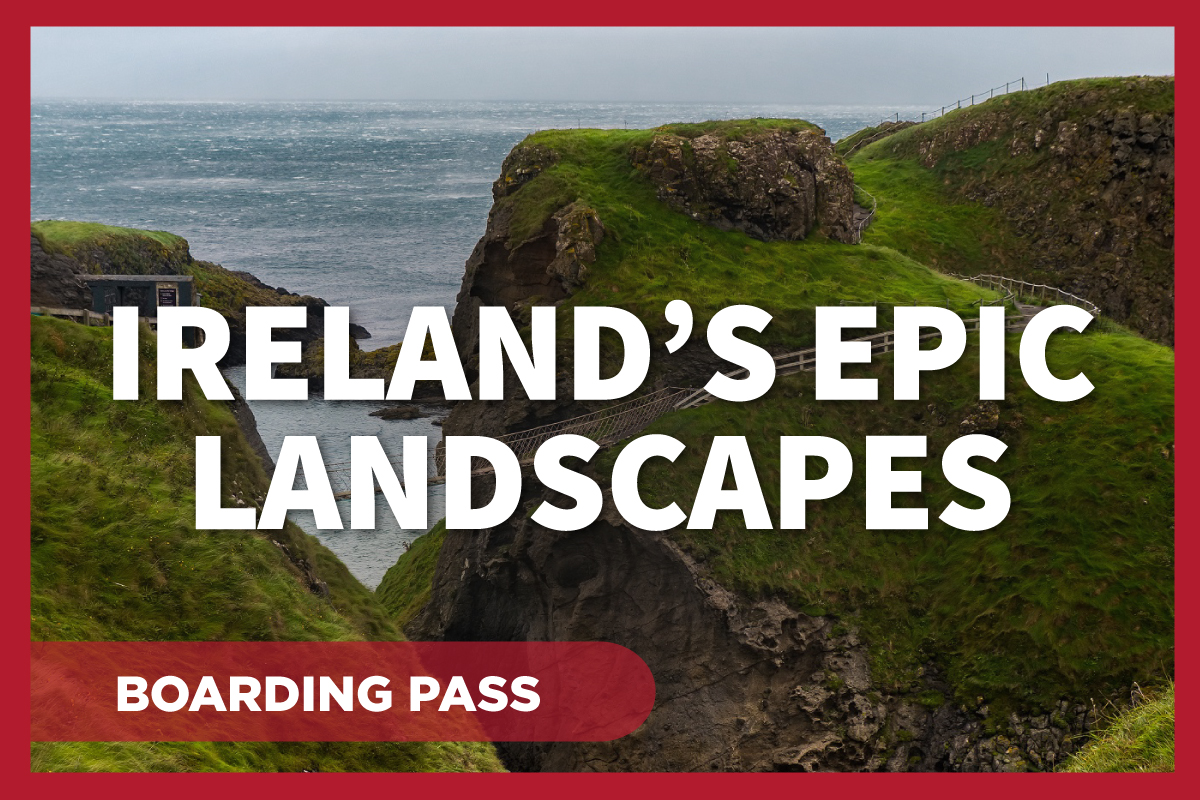 Ireland separates itself from the world's other island escapes. Its skies, often overlaid with grey, resurrects an incredible vibrancy in its green, rocky landscapes that guarantee eye-widening views. As we wait patiently to safely partake in Ireland's renowned festivals and huddled pub meet-ups, we're featuring the country's outdoor attractions as choice places to venture in this recovering world.
Keep reading to uncover why Ireland is on our list of Top 10 Destinations for 2021.
Take a Drive in Ireland
Causeway Coastal Route
This 247-kilometer (154-miles) driving route is the most popular in Northern Ireland. Running along the cliffs overlooking the Irish Sea between the cities of Londonderry and Belfast, drivers are exposed to the awe-inspiring landscapes Ireland is famous for along with plenty of park-and-see attractions that round out the whole adventure.
Causeway Coastal Route's variety empowers you to see what you want to see based on your preferences. The route itself showcases stunning formations like the Gobbins Cliffs, Cushendun Caves (where parts of Game of Thrones was filmed), and the remarkable Giant's Causeway. Take a break from the driver's seat to explore attractions like Glenarm and Dunluce castles, Rathlin Island, Old Bushmills Distillery, and the Mussenden Temple sprinkled between the mesmerizing cliffs. If you're not afraid of heights and want to add a surge of exhilaration to your sight-seeing, pull onto Rope Bridge Road from B15 to cross the legendary Carrick-A-Rede Rope Bridge, suspended high above the sea.
Ring of Kerry
This is another long-distance drive (179 kilometers/111 miles) routed in the southwestern part of Ireland. It circles the Iveragh Peninsula and gives drivers an eyeful of coastal landscapes, stone houses, seaside villages, and scads of places to park the car and explore.
If you extend your drive around the Ring of Kerry to include the Skellig Ring, you'll get "up-coast" and personal with Ireland's most western coast (lol, see what we did there?). Not only does it deliver epic views of the North Atlantic Ocean, but following this route also brings you by Skelligs Chocolate & Café (St. Finians Bay, The Glen, Ballinskelligs, V23 HP64, Co. Kerry, Ireland). This open plan chocolate factory is well worth a stop if you have a sweet tooth for chocolate and other tasty delicacies. Taking time to meander through Ireland's famous chocolate factory will result in free samples, witnessing the making of these chocolaty masterpieces, delightful conversations with the friendly staff, and the chance to shop some of the most delicious chocolate you'll ever have. Learn more at Skelligschocolate.com.
Ireland's National Parks
Killarney National Park
The easternmost bulge of the Ring of Kerry passes through Killarney National Park, Ireland's first national park. Established in 1932, it is recognized as a UNESCO Biosphere Reserve and is complete with lakes, mountains, historical sites, and amazing scenery. One of its biggest historic attractions is the Muckross House & Gardens, located in the eastern part of the park near Muckross Lake. This 19th Century Victorian mansion invites visitors to see the inside and learn the fascinating history of the families who lived there.
A guided tour through the mansion lends a nice break from trekking the outdoors, but there are still plenty of outside wonders to see throughout Killarney National Park. North of Muckross House & Gardens is Ross Castle, which overlooks Lough Leane (Leane Lake). South of Muckross House is the trailhead to a small hike that takes you to Torc Waterfall. If you're looking for a longer hike – we're talking multi-day – look into the Kerry Way walking tours.
Connemara National Park
Speaking of hikes, Connemara National Park is said to have the best in Ireland. There are many hikes to choose from and/or improvise, and a good introduction to the mountainous terrain is the Diamond Hill trek. From the small village of Letterfrack located at the western base of the park, you can reach the Connemara National Park Visitor Center. Here, you can get detailed information on other treks to take and hop onto the Diamond Hill trailhead. Summiting Diamond Hill rewards hikers with views of the ocean, surrounding mountain ranges, forests, and Letterfrack below.
Wicklow Mountains National Park
The Wicklow Mountains offer a good look at Ireland's landscapes for those planning to spend most of their time in Dublin. Located south of Ireland's most populated city, the park offers an incredible contrast and delivers over 20,000 hectares of land open for hiking, rock climbing, and bouldering.
A stern "Leave No Trace" policy in correspondence with its priority conservation efforts makes Wicklow Mountains National Park a serene escape to Ireland's superior scenery. Resting on the rim of Glendalough Valley at the southern end of the park is Monastic City, featuring the ruins of an early Christian settlement from Medieval times. Glendalough Cathedral, Glendalough Roundtower, and St. Kiran's Church are among the landmarks you'll see when exploring Monastic City.
Even when we can't safely partake in its renowned festivals and huddled pub meet-ups, this country's wealth of landscapes and mysterious sites to discover make Ireland a wonderful place for your epic return to travel. Leave it to your Jaya Travel agent to listen to what you want, then design a custom trip for you!
Call Jaya Travel today and begin planning your Irish adventure!
877-FLY JAYA (359-5292)