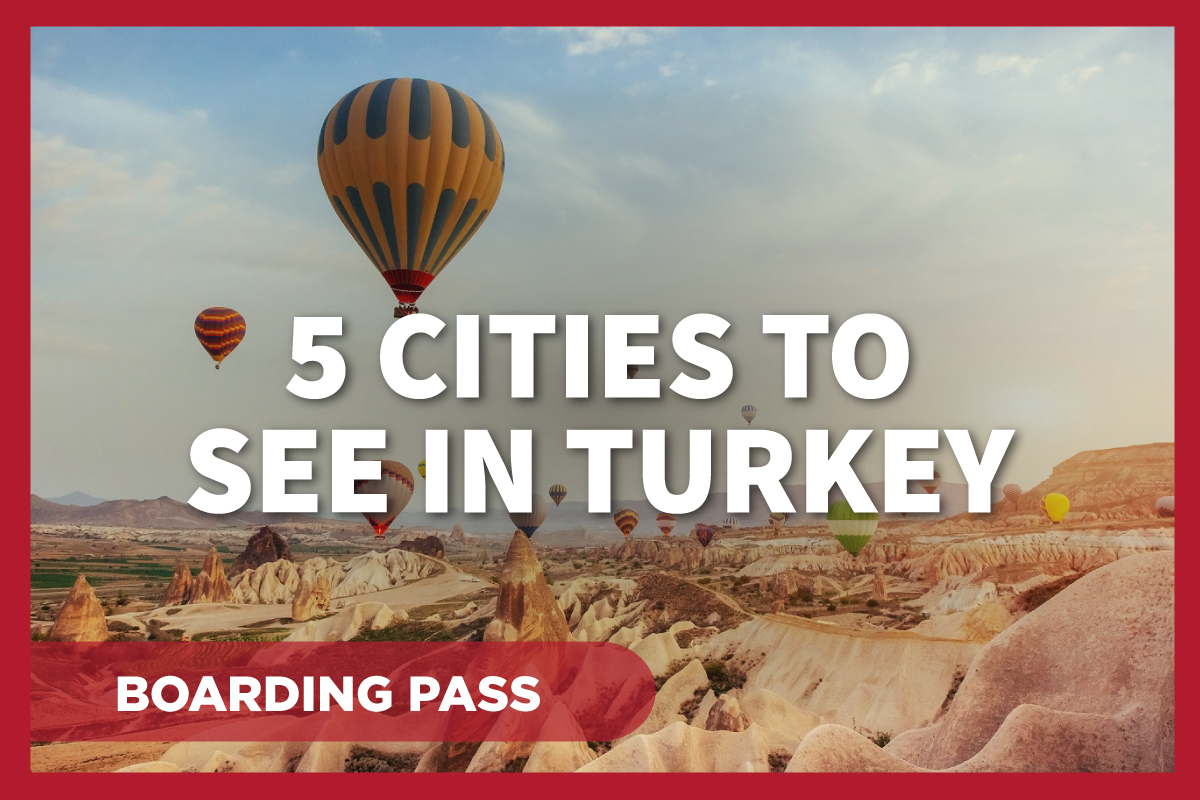 A Top Destination for 2021, Turkey holds a truly dynamic character. Straddling both the European and Asian continents, you might not know what to expect on a visit to Turkey beyond ruins, historical sites, and thick coffee that keeps you delightfully jittered throughout the day. Keep reading to scratch the surface of Turkey's main cities:
Where You'll Land
Istanbul Airport (IST) in Istanbul, Turkey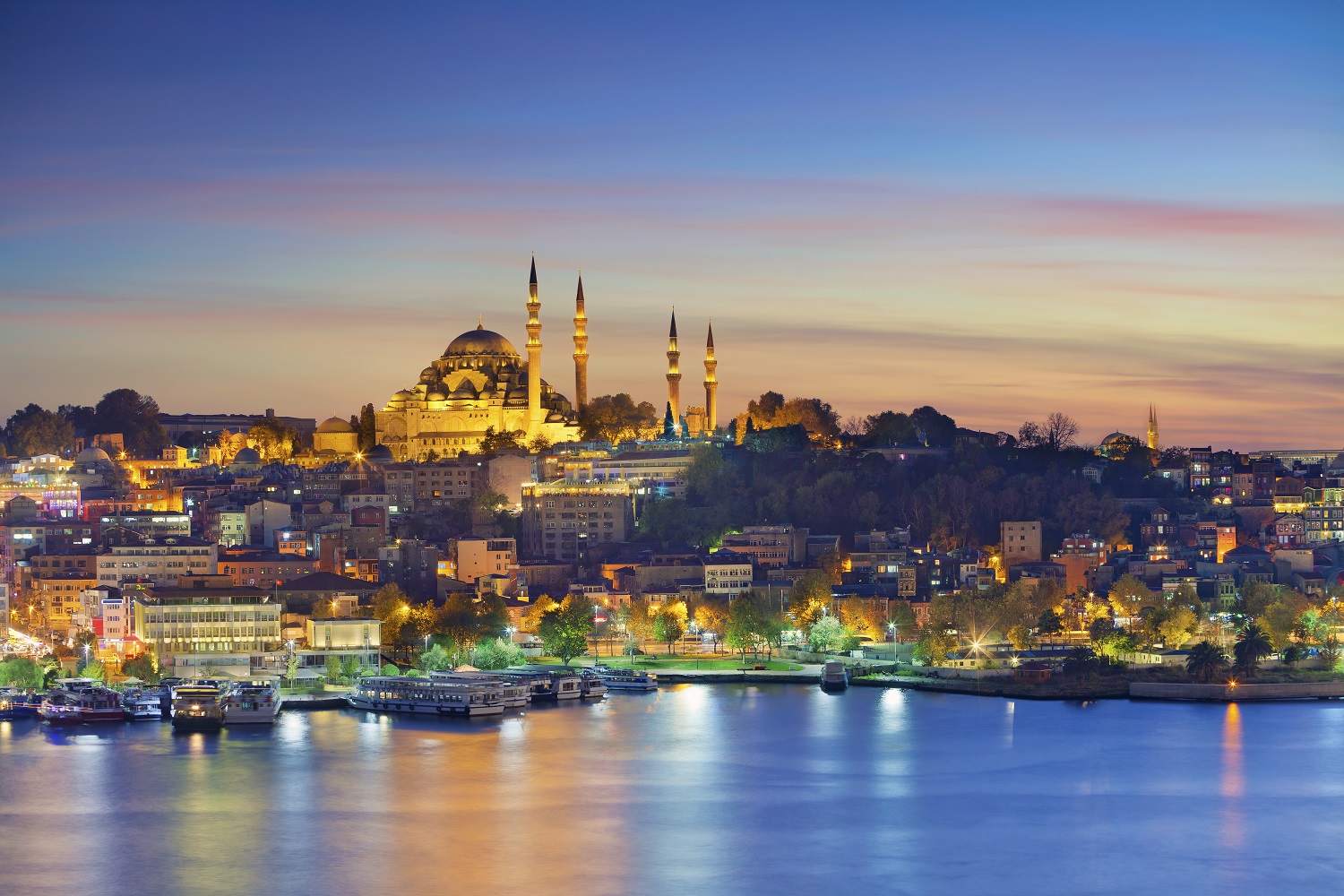 "If you're visiting Turkey, you HAVE TO GO TO Istanbul!"
Well, this is where Turkey's main airport is, so you'll be able to say you went to Istanbul regardless of how long you plan to stay there. It's Turkey's largest city and is considered the economic, cultural, and historical center despite Turkey's capital, Ankara, trying to brand itself as the same.
Istanbul is rooted with fascinating history in its stories and attractions. Hagia Sophia, in the southern part of the city, is an immediate must-see. It began as a Patriarchal cathedral before becoming an Imperial Mosque and then settling as a colossal museum that the public can enjoy. It is one of the world's most popular tourist attractions to date, so if you're spending even a little time in Istanbul, make sure you check this out.
Since you're already at Hagia Sophia, make yourself a little walking tour by heading southwest to visit the campus of Topkapi Palace; once home to generations of sultans, it's now a museum that lets you step into the life they lived.
A shorter stroll west of Hagia Sophia takes you to the Basilica Cistern, and underground showcase of the drinking water transportation system used back in the day. South of the Basilica Cistern, passing through the green spaces of Sultan Ahmet Park, you'll find yourself in the presence of the Blue Mosque (a.k.a. Sultan Ahmed Mosque). Nicknamed for its blueish interior, the beautiful building owns a sense of power, especially when backed by an amazing sunset over the nearby Sea of Mamara.
Shopping in Istanbul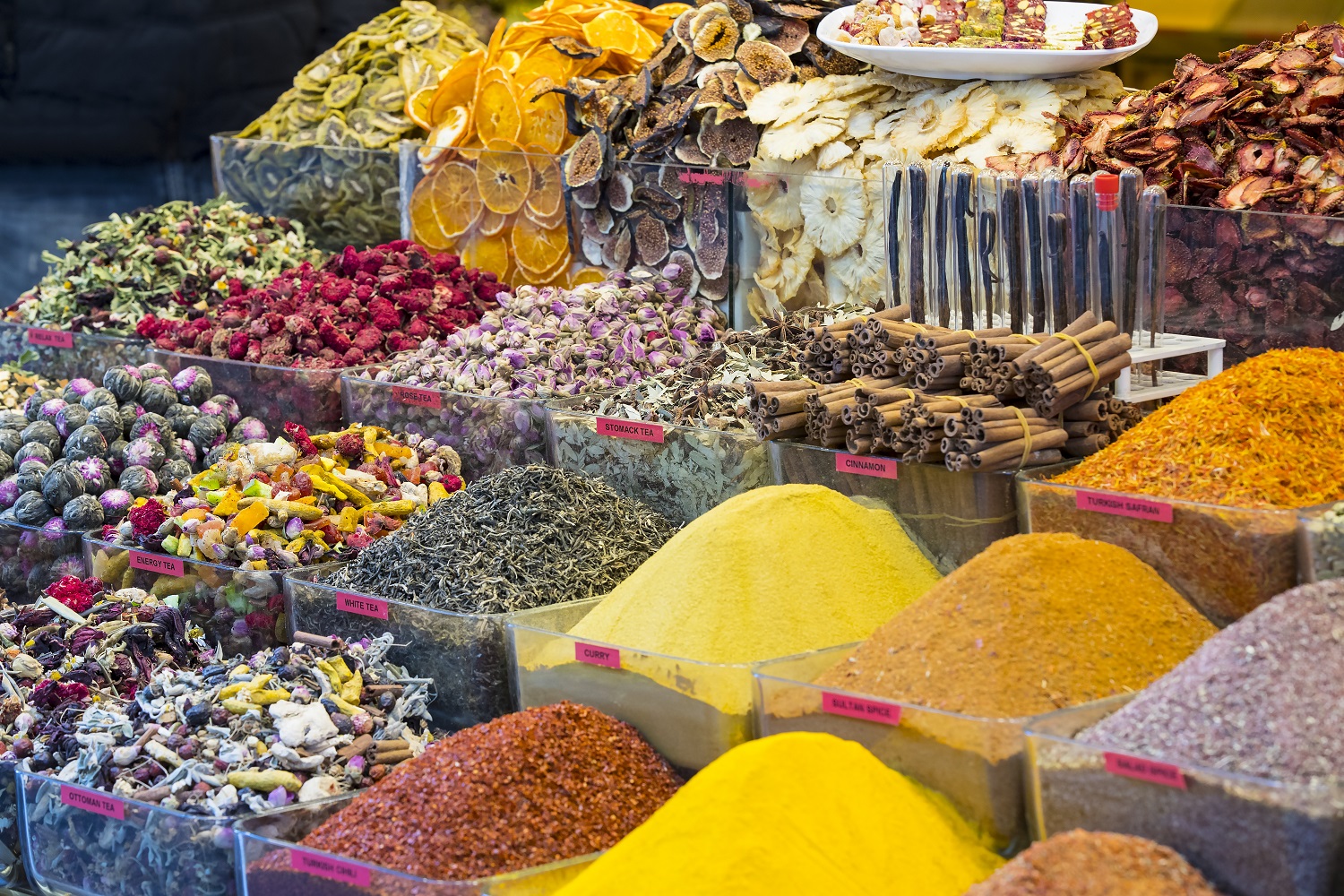 When it comes to loading up on Turkish goods and souvenirs, the Grand Bazaar is the place to go. It's been around for over 500 years and is comprised of a network of 61 covered streets yielding over 4,000 shops. You might want to bring a tote.
Coming in as the second most famous covered market in Istanbul is the Egyptian Bazaar (a.k.a. Spice Bazaar). Here, you'll find baskets filled to the brim with the sources of many alluring aromas that will guide you inside.
Making your way from the Grand Bazaar to the Egyptian Bazaar, you might find yourself in the Mahmutpasha Bazaar, a large open-air market where people find the best bargains in the city.
Ankara, Turkey
Learning that Istanbul is not the capital of Turkey and the title, in fact, goes to this slightly smaller city is almost surprising, but Ankara holds its share of Turkey's best attractions. A glance at the cityscape alone reveals one of its most stunning, the Kocatepe Mosque. A pyramid of dome roofs huddle toward the center and are surrounded by four large pointed pillars. The interior is equally remarkable and, unlike many other mosques, is open to the public.
When you're finished gaping at the Kocatepe Mosque, get yourself to a place you can see its majesty along with a 360 degree view the whole city. The Ankara Castle, in the northeastern part of central Ankara, sits atop a rocky hill and is the oldest part of Ankara. Visitors can explore the grounds of architecture blended by its history of different empire rule. Climb to the viewing deck for an unbeatable look at Ankara.
Those fascinated by endearing history and preserved relics will find their fill here. The Museum of Anatolian Civilizations is situated just on the south side of the Ankara Castle and holds a cornucopia of interesting artifacts. Anitkabir, translated as "memorial tomb," is a mausoleum and museum filled with a massive collection of paintings and exhibits. When you're ready for an outdoor break in some greenspace, head to Genclik Park (just west of the Museum of Anatolian Civilizations). This huge public park fills over 65 acres with water features, gardens, cafés, an open-air theatre, and a Ferris Wheel.
Can't get enough ruins? Head to Ephesus!
Check out the archaeological City of Ephesus in western Turkey. It's an entire ancient Greek city that many Turkey travelers make a point to explore. Remarkably preserved ruins leave visitors breathless as they appreciate the still-standing construction and detail dating from the 10th century BC. At risk of sounding cliché, this place is amazing!
Cappadocia, Turkey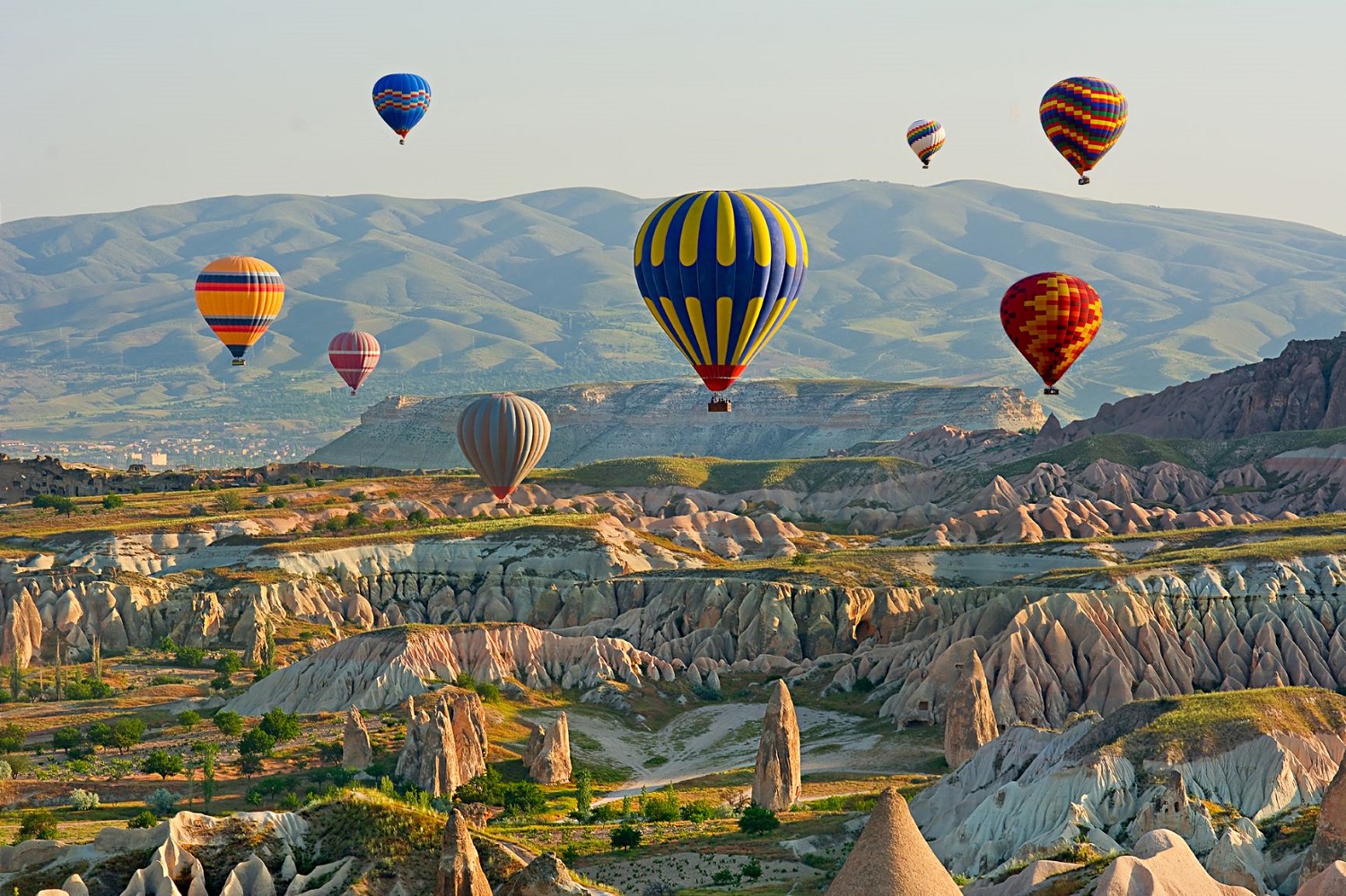 The Cappadocia region of Turkey is most famous for its unreal images of flocks of colorful hot air balloons floating high above waves of rock formations. Aside from being the best city to go to during a Turkish summer, Cappadocia is home to the popular cities of Goreme and Urgup.
Goreme National Park is where the marvelous hot air balloon spectacle takes place as hot air balloon rides over the otherworldly landscape are a huge attraction and on many peoples' bucket lists. Tons of hot air balloon tours happen daily, so even those at ground level can absorb one of Turkey's most magnificent events, regardless of when they come. If you find yourself in Goreme in July, you're likely to cross paths with the annual Cappadocia Hot Air Balloon Festival.
Just outside of Goreme National Park is the city of Urgup, a haven for wine enthusiasts or people who simply appreciate a glass or two. Known for its red and white wines, wine tasting tours are an unrivaled thing to do while you're here. Turasan Sarapcilik is the local winery in Urgup and is known to produce delicious reds at a good price. Turkey's Pigeon Valley, west from Urgup on the other side of the park, also has a collection of wineries worth sipping at. Read more about them here.
Love quirky landscapes? Check out Pamukkale!
If you love the fairy chimneys and strange terrain of Goreme National Park, consider adding Pamukkale to your Turkey tour. Translated to "cotton castle," Pamukkale's bleach white landscape contrasted by Turkey's surrounding greenery and the blue shades of its hot springs delivers more than a treat for the eyes.
Fethiye, Turkey
A retreat to the small port town of Fethiye on Turkey's west coast is choice for those wanting to spend time near or on the water. Located in the Turkish Riviera, a sailing tour is arguably the best way to experience this city, its mesmerizing blue waters, and beaches. Tours lasting from hours to days are available and are definitely worth the splurge for a completely new experience.
Fethiye also has a repertoire of historic sites including the Lycian Rock Tombs carved into the mountainside by Lycians in 350 BC. Getting to the tombs will involve some hiking, but it's worth witnessing the astounding subtlety in which these detailed facades emerge from the cliffs. The Tomb of Amyntas stands at the highest point and is considered the largest and most important of the tombs. It's said that the Lycians took care during construction to ensure Amyntas could enjoy excellent views in his afterlife, so the positioning of this tomb delivers an unbeatable panoramic of Fethiye below. Again, well worth the hike.
Izmir, Turkey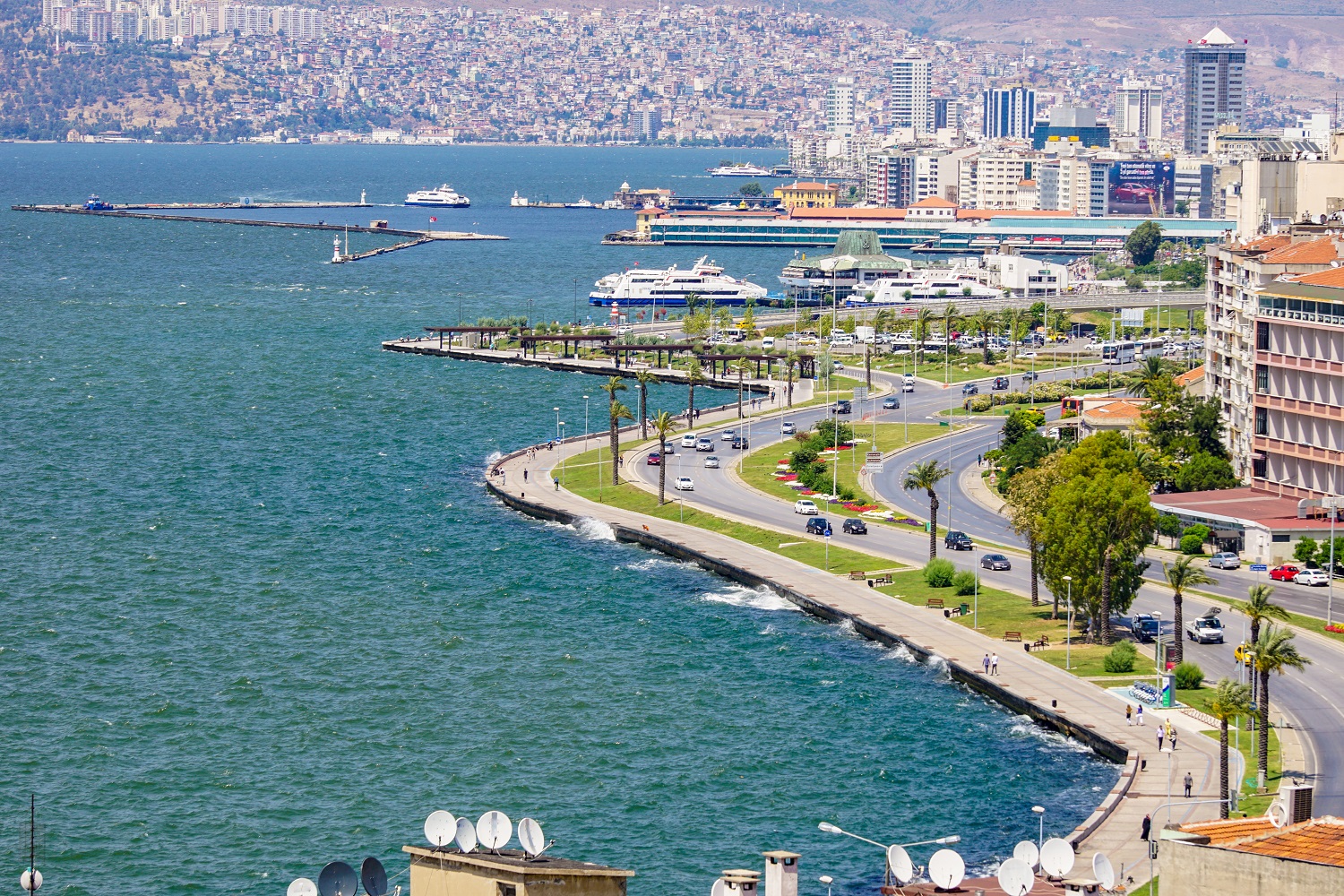 Izmir strikes us as a more populated version of Fethiye. Still graced with seaside charm and a laid-back lifestyle, Izmir is popularized by more tourist attractions like the Syma Agora Ancient City (a.k.a. Agora of Izmir). Remains of this ancient public space date back to 4th century BC and its structures remain incredibly intact. Archways, tunnels, columns, and outlines of streets throw visitors back in time, connecting them with both the noteworthy and mundane events that must have happened in this ancient public space.
West of the Syma Agora Ancient City is Konak Square where the impressive Clock Tower stands tall in the center. A well-known landmark and named "the symbol of Izmir," it was constructed in 1901 for Abdulhamid II's 25th anniversary of ascending to the throne. From here, you can head west to the Kent Tarihi Park Walkway for a seaside stroll or east to go into the city and hit up the Kemaralti Market for more shopping.